Lili + Matt, Madly in Love
Hidden amongst the Numinbah Hinterlands down by the point of the lake Lili and Matt exchanged their vows. Friends and family watched on from natural bamboo chairs decorated with simplistic plants as the loved up couple from Mt Isa made their love official at Gold Coast Farm House.
Lili kept it simple and sophisticated in her backless Lola Varma gown, stunning her guests in pure white with a laid back simple hairstyle by Mikki Auld Hair and natural makeup by Lara Quinn. Later changing into a fun lace dress by Grace Loves Lace for the reception. The bridal bouquets made of white orchids with pops of lilac delicately offset the natural beige and browns of their relaxed tropical luxe themed wedding. Keeping everything light and bright, Lili and Matt kept their playful relationship at the forefront of their ceremony and reception.

Dinner was hosted beneath the tipis, with delicious woodfired Mexican food served by Zicatela for all guests to enjoy beneath the festoon lights and clear starry sky. Guests enjoyed a night full of love with great food, drinks and company beneath the stars on the beautiful 60-acre property.
We spent a month travelling WA with two close friends, as the month drew to an end we found ourselves in Esperance. 
Having done a large (unprepared) hike through the national park to Hellfire Bay the day before, we decided to drive to the same spot for lunch and to take in the views again. Matt and I went for a walk to get some drone footage of the hike we had previously taken. 
Matt set the drone to active track us and we got talking about future travel plans on the way back to the car. He stopped walking and dropped to one knee, asking me to marry him.
I was so shocked that the first thing I said was "this is so awkward", while Matt patiently waited for a yes. 
I had followed Gold Coast Farm House on Instagram for years, and always loved the idea of getting married there. We were on the Gold Coast after our engagement and decided to check the venue out. 
As soon as we pulled into the venue we were stunned by the rolling hills, an adorable cottage, beautiful lakes, a flowing creek and fresh air. 
We knew this was the perfect blank canvas for us to host our wedding.
We were married by the amazing Annie from Lady Love Industries, she managed to perfectly capture our love story and share our story so perfectly with our guests. 
We were delighted to work with Allume for our photography and videography, they perfectly captured our love and presented us with the most romantic and fun video we could dream of. 
The food and drinks kept flowing with our portable Airstream bar and delicious catering by Zicatela. Desserts were provided by Custard Canteen with delicious Portuguese tarts and pastries for our guests to enjoy.
 We were so lucky our celebrant Annie is also a killer DJ, so she kept the music playing and the tunes pumping all night long. I walked down the aisle to the magical voice of Regina Spektor covering'Real Love' by The Beatles, this was the perfect song to sum up our relationship and captured lots of magical memories of that moment. 
Later we celebrated our first dance as a married couple to 'You' by Benny Blanco, Vance Joy and Marshmello, though not the traditional first dance song, we loved the upbeat party vibes of the song, as we both don't take ourselves too seriously.
There were so many highlights to our day, one of the best was our ceremony hosted by the brilliant Annie, she did such an amazing job at including our guests and telling our story. 
It was so special to listen to each other's vows and reminisce on our relationship so far. There was so much love and laughter rolled into 30 minutes.
We loved being able to host a recovery event the following day for all our guests – it's not too often that all of your loved ones are in one place at one time. Considering your wedding day goes so quickly it is nice to have some downtime to catch up the following day. 
We made the most of the beautiful space we had created at the Farmhouse and with our special caterers Notorious EAT and Peaky Blenders we were able to relax and enjoy everyone's company with no agendas or rushing.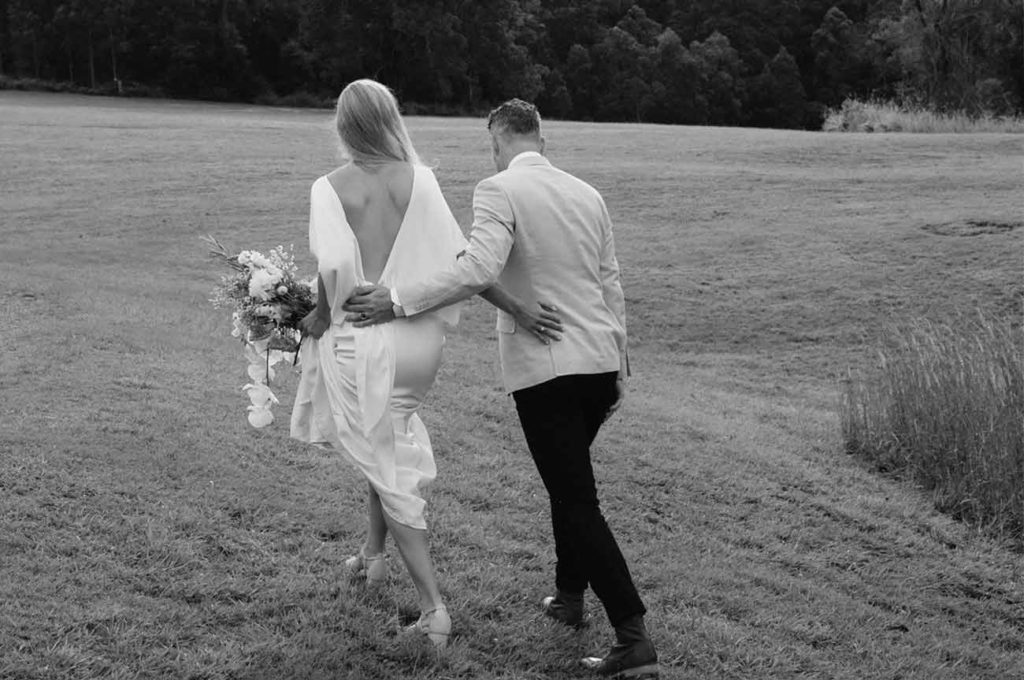 If I had any advice to offer for future couples it would be to not feel like you have to follow any traditions that don't mean anything to you. 
We decided to not cut a cake or toss a bouquet because it wasn't us. We wanted the night to be OUR wedding, not a cookie-cutter routine that we feel obliged to follow. 
Also to enjoy the planning process and to not put too much pressure on planning. 
Matt and I often enjoyed a Saturday night in with a bottle of wine, cooking food and doing some wedding planning.
Book Your Dream Wedding Today
Want a dreamy wedding like Lili & Matt's? Book your wedding at Gold Coast Farm House today!